Commercial & Industrial Painting Services
Boynton Beach & West Palm Beach, FL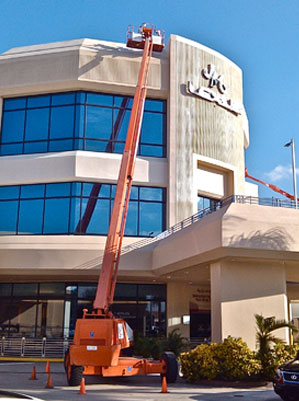 We are proud to be one of the oldest commercial and industrial painting companies in South Florida. Our experience ranges from large industrial warehouses to hospitals, high-rise office buildings and historical structures. GI Painters has worked across most every industry since 1948; when you choose us you can be confident you have chosen a partner with proven knowledge and experience.
GI Painters has extensive scope and capability. We own the industrial equipment to address your requirements: from tall and uncommon structures to hospitals and "clean rooms." No matter what type of business you own, our licensed and insured professionals will provide you with prompt service at a fair price.
The scope of industrial site painting, preparation and coating includes metal structures, warehouses and large commercial facilities. It often incorporates extensive surface preparation and specific high-performance coatings.
We know site supervisors can have a hard time finding qualified industrial paint and sandblast services to facilitate large-scale paint services. Often industrial sites pose extreme challenges that may hinder small-business painters from performing the job. At Gustafson, we've got the know-how, the experience, and own our industrial-ready equipment.
COMMERCIAL INTERIOR AND EXTERIOR PAINTING SERVICES FOR:
Hospitals & Medical Facilities
Warehouses & Storage facilities
Office buildings
Arenas & entertainment venues
Historical structures
Airport Hangars
SPECIALTIES:
Waterproof Systems
Metal Siding, Metal Roofs
Membrane Coatings
Below-grade Waterproofing
Storage Tanks
Contact GI Painters now for more information on how we are the best option to meet your needs.