Boynton Beach Exterior Home Painting Services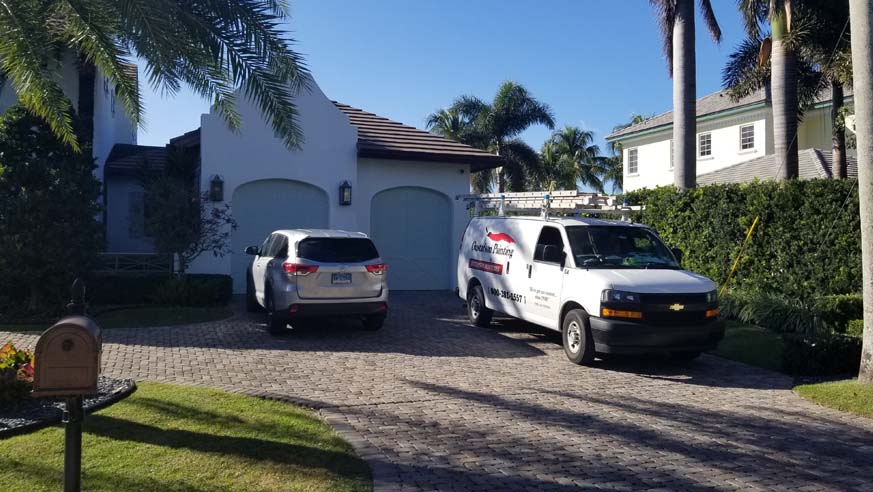 Steps for Exterior Home Painting
Choosing the Paint
We will paint your home any color you choose. However, we will be happy to consult with you regarding colors and color schemes. Our Boynton Beach FL team will also be sure to provide a type of paint that is appropriate for your building, needs, and budget.
Preparing the Surface
Before painting, we must make the walls smooth and clean. Even the best paint job will not last on a dirty or damaged surface. Cracks and joints will be sealed with high-quality caulk. Any deteriorating materials will be replaced or patched. Then, the home will be cleaned and washed thoroughly. Washing the surface that will be painted is a crucial step in any home painting project. A surface that hasn't been cleaned, even if it doesn't appear dirty, will still host small pieces of dirt and dust. By removing these, we ensure that paint goes on smoothly, and properly adheres to the surface.
Priming
Primer is a sealer that covers old paint and provides a good surface for the new paint. The primer must be fully cured before the new paint is applied. The curing can take up to a few days.
Painting
Once your Boynton Beach FL home is prepared and primed, we will paint it using techniques appropriate to the project. We'll discuss the techniques to be used with you beforehand. We always respect your preferences, and we'll offer you advice on the most effective techniques to create the best results for your Boynton Beach FL home.
Final Inspection
Once our skilled Boynton Beach FL house painters have painted your home, we will inspect our work to make sure it meets our company's high standards so you will be satisfied. If anything isn't up to our gold standard, we make sure it is before we can call the project complete.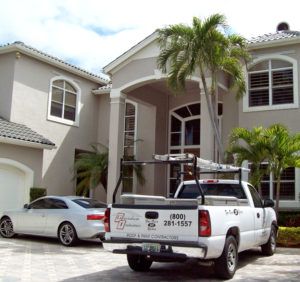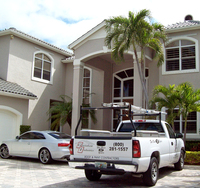 You may also like:
Pressure washing for house painting
Deck/Fence Painting
Garage Painting
Exterior Paint Color Ideas
What to look for in a house painter
Experience
We have years of experience in commercial painting & residential painting. Our family has been in the exterior painting industry since 1948. New members enter apprenticeships in which they learn from our experienced house painters. When you want the perfect paint project for your Boynton Beach FL home, you need the expertise we provide.
Respect for Customers
If you have a vision for how you want your home to look, it's our job to listen carefully to what you want so we can fulfill that vision. If you aren't sure exactly what you want, we will listen carefully to your ideas so we can make suggestions that fit your interests. We know that you want your home to look good to the outside world. It's one of the biggest first impressions of a home, and we take your desire for a good exterior appearance very seriously.
Our team is proud that you trust us to take care of your home, whether you need exterior or interior painting. That's why we show utmost professionalism and courtesy any time we visit your home. Whatever your painting job requires, our locally owned and operated company will be the right team for you as we will do an excellent job in a timely manner and at the best value!
Careful Work
Painting buildings requires skill and meticulous work. A painter must cover the whole surface neatly, while being careful not to get paint where it doesn't belong. House painters must also be careful to do tidy work while taking proper safety precautions when working on high walls. Our trained and experienced house painters have the skills to paint any home thoroughly and neatly. We protect features like windows, nearby garden features, lights, and anything else that you don't want painted. Rest assured, when our professional painting contractors are done painting your house, the attention will all be on your flawless new exterior, not paint where it shouldn't be.
Versatility
Ideally, an exterior painting service can offer more than good exterior paint jobs. Gustafson Painters also offers several other services. If it involves the exterior of your home, we're the highly rated painting contractors you need. Here are some of the services we offer to keep your home looking at its very best:
Roof coatings & membranes systems, waterproofing, and caulking
Faux finishes to make metal doors and garage doors look like wood
Tromp l'oeil art for walls
Interior Painting
GustaCide—our very own environmentally friendly mildew inhibitor that keeps patios, decks, roofs, walkways, and driveways free from fungus in Florida's humid climate
A Good Reputation
Our family has been painting buildings in this area for many years, and many owners of commercial and residential buildings know they can trust our locally owned company for quality exterior and interior painting jobs. If you've driven or walked around the community, you've certainly seen our work. We're proud to serve the community that we're a part of, and we want to let you experience the service that's gained us our reputation. If you've ever spoken to our customers, you already know the high esteem our painting company holds. If you haven't, go ahead and ask! We know the work we do impresses our customers, and we're ready to show you how!
Honesty and Integrity
Our painting contractors are careful to use only the highest quality products and to provide excellent workmanship in our professional painting services. We don't use materials or techniques we wouldn't be proud to have in our own homes, and we execute every painting project to that very standard. You can count on us to give you the honest answers you need, and create a flawless exterior for your entire home.
We're the kind of company that gives it to you straight. You don't have to worry about complicated terms, confusing billing, or having a painting project completed without getting all the details first.
We fulfill our commitments to our customers, and that shows in the work we do. We're willing to stand by our word, and our professional painting services. If you choose us as your painting company, that's the kind of reliability you can expect.
Warranties
We offer a two-year warranty for our workmanship, because we know the high level of service we provide. On top of that, all the paints we use carry manufacturer warranties. We wouldn't buy a large appliance for our home without making sure it has a good warranty on it, and home renovation projects should be no different. Whether you need our commercial painting services or residential painting services, we want you to have peace of mind.
We want to ensure that every aspect of our work is long lasting, from the applications our local painters complete, to the materials we use. You can begin your new home project with us, knowing your investment is safe and you'll get nothing less than the highest quality paint work. If you have any questions about our services, paint, or privacy policy, give our team a call so we can give you the answers you need.
Value
Home projects can be a large undertaking. It's reasonable to have a budget for anything you want to do with your Boynton Beach home. Having a budget doesn't mean it's wise to simply go with the lowest bidder for house painting, however. If price is your only criteria for choosing professional painters, you could end up devastated with the results on your home's appearance.
We strive to provide the highest value for all of our Boynton Beach customers. We give you the very best painting service, while also taking care to respect your budget. If you have a dream exterior in mind, but it doesn't fit in your budget, our painters in Boynton Beach will work with you to offer alternatives that give you the appearance you want, with a price you can feel good about.
Professional Guidance
Good home painting services should be able to offer you advice and guidance every step of the way. Without industry expertise, it can be difficult to navigate the different types of paint, different techniques, and even understand how certain paints will age and appear in natural light.
Another thing professional painters should always consider is your neighborhood. While you want an exterior that stands out, it could become a problem if you belong to a Home Owner's Association, or HOA. Many companies don't think to consider the repercussions of completing a home exterior that doesn't fit within HOA guidelines. We make sure to ask you about the guidelines within your neighborhood. Once we know the HOA rules, we can advise you on the best way to proceed, whether your ideas fit within the rules, or need some tailoring to keep you and the association happy.
When you decide on the look you want, we'll discuss all of these things with you. We're always happy to offer our professional guidance as part of our service, whether you're just starting the planning phase, waiting for the primer to dry, need paint repair work, or have questions about your newly finished exterior. We'll always give you honest answers and solutions.
Frequently Asked Questions
How long does paint last, and often should a house be repainted?
Conditions like heat and humidity can impact the lifetime of exterior paint. Whether your Boynton Beach home is newer or older can also affect the lifetime of the paint, as well as the type of siding you have on your house. In rough climates where home exteriors get a lot of wear, paint may need to be reapplied up to every three years. However, in milder conditions, paint often lasts up to five years, and in optimal conditions, it can even last a full decade.
Can't I just paint my home myself?
You can, although it is a very time and labor intensive process. We recommend using a professional painting service not only for the safety issues that can arise when you're painting your home yourself, but also to ensure the exterior comes out the best it possibly can, and lasts as long as it can.
It can be tempting to take on a DIY project, but with all the different factors that go into a successful paint job, it's best to turn to experienced professionals.
Are there different types of paint for exteriors?
Yes, there are several types of paint used for the outside of your home. There are also plenty of different finishes available. Because our area can experience weather that wears on paint more quickly, we recommend oil or latex based paints.
The best finishes to choose for our area is either satin or matte (no shine, with a flat appearance). Not only are these well suited to all types of siding, they're also very easy to customize, and are durable enough to withstand hot, humid conditions.
What is the timeframe for painting a house?
There are plenty of things to consider when planning how long a paint job will take. First, the exterior surface needs to be cleaned and prepared. Primer needs to be applied and allowed to completely dry. Painting itself may take only a few days.
However, depending on the size of your house, number of coats needed, and weather conditions, that timeline can vary. Don't hesitate to contact our painting company if you have questions so that we can advise you on the timeline for your specific project.
Related Content >> House Painter Boynton Beach