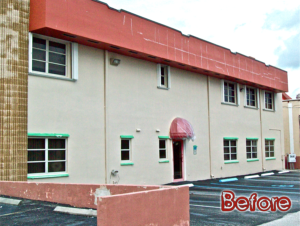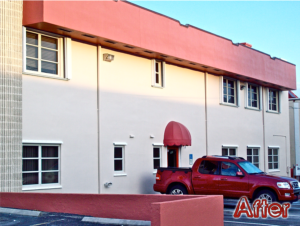 Exterior Building Maintenance Services
Boynton Beach, FL & West Palm Beach, FL
The exterior walls of your building are essentially coated to protect it from the elements. Whether that's concrete covered by wood, masonry, metal or other manufactured siding, it's important to make certain your business can weather our extreme South Florida conditions and continues to look good to maintain its value.
Adherence to these steps will ensure your structure's longevity.
Cleaning – Regular cleaning of your buildings surfaces can help keep the coatings from building up dirt and grime and deteriorating prematurely. At GIpainters, we use a "green" cleaning agent for dirty areas along with a light pressure washing to remove the dirt and insect debris. This results in a clean, fresh, just-painted appearance at minimal cost.
Regular Inspections – Avoid costly repairs by making routine inspections of your company's exterior. Walk the perimeter of your building at least once a year, and look for damage caused by water, cracks in the exterior substrate, termite damage, dry rot, rusted areas, loose or damaged siding, or unusual or excessive fading and peeling.
Caulking – Examine the areas of your building that are caulked looking for any evidence of loose, cracked, brittle, or deteriorated sealants. Wherever found, remove existing bad sealant and clean the surface before applying new caulk to the joint. This will prevent water intrusion into the building and reduce the amount of insect access.
The longevity of the exterior of your business is directly affected by the protection and maintenance of sidings, coatings, and paint. At GI Painters, we use only the best products, provided to you at the best price. With our service, you can be sure the new look of your business will last a lifetime.
At GI Painters, we use a a special low-pressure, non-chlorine formulation, GustaCide, that's safe for pets and plants.
Contact GIPainters to schedule an estimate today.