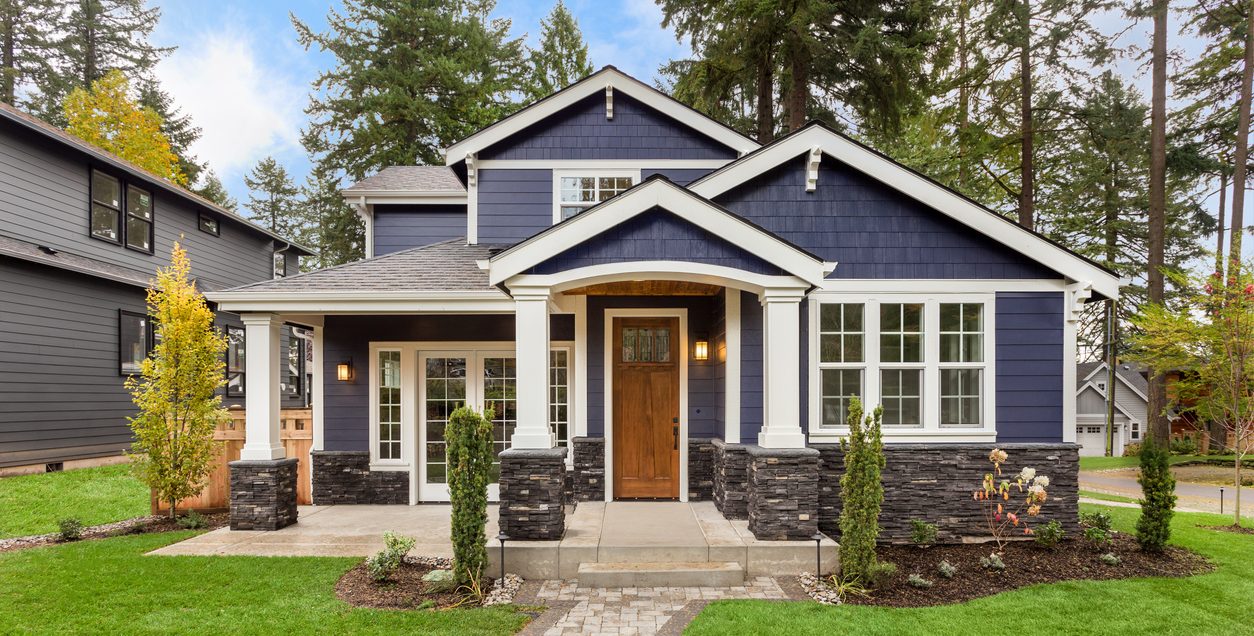 Popular Exterior House Painting Combinations
With numerous trending color palettes for painting the modern house, it can be hectic to pick the ideal palette for your home. Therefore, while choosing the appropriate combination, pick the one that contrasts with the surrounding while matching with your architectural style. Here are eleven popular exterior house painting combinations:
1. Butter cream Yellow/Black/White
Yellow generates a happy mood when picked as a dominant paint color. When combined with red undertone, yellow delivers a classic exterior look. For walls, use buttercream yellow paint mixed with a fresh bright white for emphasis. A black-shingled roof will set off the colors to offer an irresistible look for your home.
2. Stormy Gray/Bright White/Paprika Red
Gray is available in a broad variety of hues and provides an elegant, sophisticated look on your home's exterior. For the siding, paint stormy gray as the dominant color. Then use paprika red to paint window frames, front door, paint eves, and porch trim. To add to your home's appeal, use bright white color to paint the window sashes.
3. White/Tangerine/Aquamarine
Using white for siding and aquamarine paint for shutters and framing trim is a popular trend. Apply tangerine to emphasize the front door to create a luring effect to your house. This color combination is ideal for colonial architectural styles.
4. Ivory/Aqua/White
Symmetrical homes ooze heritage, elegance, and formality. The combination involves applying a lighter-colored combination with darker accents. The home softens its environment while the door painted bright blue puts a spotlight on your entrance. While the house is painted ivory, the window and door frames are painted white.
5. Aqua/Crisp White/Royal Purple
If your home is close to the ocean, an ocean blue color can reflect the nearby seaside. Use an unexpected saturated hue like royal purple to paint the front door and give it a stylish and playful appearance. Then use the white to paint the window frames.
6. Mustard Yellow/Honeysuckle White/Brown
This combination offers a home a subtle look to a Tudor style of a house due to the brown accents. However, the mustard yellow gives your house a contemporary look. This statement requires a wood color that is neutrally stained. Use the honeysuckle white paint color on the window and door frames.
7. Cool Green/Pure White/Butter Yellow
This cool color combination gives your house a woodland setting. Applying tones of nature will evoke the emotions of a serene and calm atmosphere. Use the butter yellow color on the inner door and window frames and the pure white on the outer door and window frames.
8. Slate Gray/Deep Turquoise/White
The muted blue-gray color combination emphasized by white trim. Use a traditional front door and paint it deep navy-turquoise as a complementary to the wood shingle siding that you can paint slate gray.
9. Cheerful Yellow/Pure White/Cinnamon
If you have a house on a beach, painting it yellow allows it to produce a custard yellow glow while in the sun, accented by a cinnamon painted door. A clean and crisp mood is caused by the pure white accents on the windows.
10. Apricot/Peach Cream/ Green
Painting your whole exterior in similar shades of the same color family and painting the door with a different color family creates a focus on your door. Use peach cream on your exterior while applying the apricot on the roof. Then use green on the front door.
11. Canary Yellow/Soft Gray
Most contemporary homes are painted with neutral color tones. However, using canary yellow on your exterior makes a statement. You can subdue the tone by using soft gray colors also on the exterior.
>> Related Content: Quality Painting Services
Conclusion
Choosing from these eleven combinations is easy as the styles are both diverse and contemporary. Choose your favorite color palette.